The BBI Success!
BBI Bill Approved As Over 35 Counties Pass it.
Kenya will head to a constitutional referendum in the coming months after the number of county assemblies approving the amendment Bill Tuesday crossed the threshold of 24 required to trigger a plebiscite.
While the Bill arising from the Building Initiative (BBI) process will still need to go to the National Assembly and the Senate, the referendum is as good as confirmed since the bicameral Parliament's decision — whether endorsing or rejecting the document — will still result in a referendum, anyway.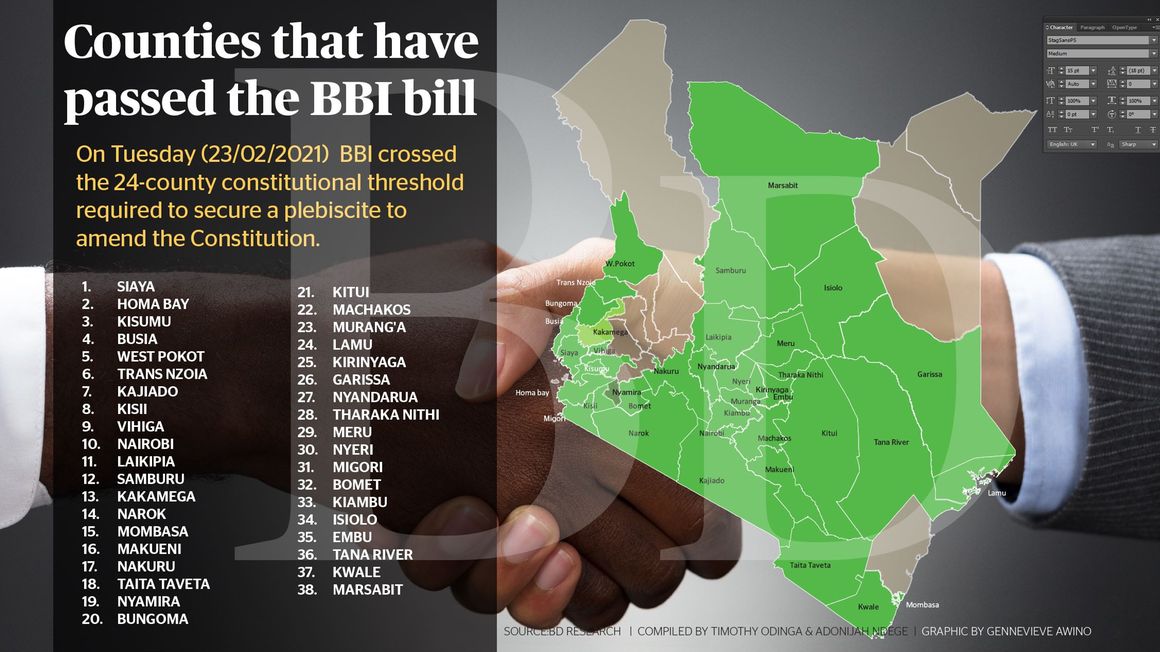 After passing the Bill in both the Senate and National Assembly, the Speakers of the two Houses shall jointly submit the proposed law guiding the change of the Constitution to the President, who is expected to direct the electoral agency to conduct the referendum within 90 days .
While the supplementary budget tabled before Parliament earlier this month did not capture allocation for the referendum, the Treasury can allocate funds which will later be approved by MPs not later than 60 days after disbursement.
The Independent Electoral and Boundaries Commission (IEBC) in the past said the referendum would cost about Sh14 billion, highlighting the burden on taxpayers at a time the country is facing a cash crunch due to the Covid-19 economic fall-out and the debt repayment obligations.
National Assembly Speaker Justin Muturi has said that debate on the BBI Bill will take as short as three weeks, meaning the House will be done with it by the end of March. Since the two Houses will not have an opportunity to alter anything in the document, it is expected that the Senate will take the same amount of time.
The Speakers of the two Houses will then communicate their decision to the President. On receipt, the President will send his message to the IEBC to hold a referendum. The commission has 90 days within which to hold a referendum on receipt of the President's message.
College students will not pay interest on Higher Education Loans Board (Helb) loans until they start earning income if lawmakers approve recommendations contained in the BBI report.
Under the proposed changes to the Higher Education Loans Board (Helb) Act, the grace period for loan repayment will be increased to four years after graduation.
Graduates are currently required to start repaying the student loans within a year after graduation in what has left thousands of beneficiaries in default.