China Gains Confidence.
China Wants To Overtake America.
China wants to lead the global recovery from the pandemic and become more influential on the world stage than ever before. It might just have the momentum – and the confidence – to pull that plan off. The world's second largest economy shrugged off much of the fallout from the Covid-19 pandemic last year, and its ability to keep growing while the world crashed into recession could mean its GDP exceeds that of the United States later this decade, years earlier than expected .
China just outpaced the United States in attracting foreign direct investment for the first time. And as 2020 was drawing to a close, it signed a trade agreement with the European Union with the aim of boosting growth and giving European companies greater access to its 1.4 billion consumers. Now, Beijing is starting the new year without one of its most aggressive political adversaries, former US President Donald Trump, breathing down its neck.
President Xi Jinping has already made it clear that he sees China taking pole position in the coming year and beyond. China's President Xi Jinping pushes global cooperation, saying 'arrogant isolation will always fail' During the World Economic Forum's virtual "Davos Agenda" event on Monday, Xi struck a confident tone as he rattled off the ways in which his nation has sent help to other countries and pushed the world to work together, reprising a message of the benefits of globalization he gave when he became the first Chinese leader to appear in Davos in 2017.
And he touted China's ability to propel the global economy by injecting "more momentum into growth. But a host of geopolitical challenges – including clashes over Hong Kong and alleged human rights abuses in China's Xinjiang region – have exacerbated tensions with the West and may stymie efforts to foster multilateral cooperation. "[Xi] is squandering China's global influence through increasingly provocative actions in Xinjiang, in Hong Kong, in the South China Sea, and with respect to Taiwan," Reinsch told CNN Business. "These actions are unacceptable to democracies, and I think we will continue to see them pulling away from China despite its attractiveness as a market," he added.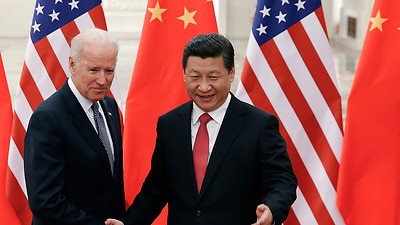 For now, at least, China's relative economic strength is hard to ignore. Top global funds such as Fidelity and Invesco have just committed hundreds of millions of dollars to a TikTok-like Chinese app, while American brands such as Costco, Tesla and Starbucks have been investing more aggressively there, too. The country was able to borrow at negative interest rates for the first time last year, drawing big investors from around the globe – including in Europe and the United States.